Waste Streams and Recycling
Waste management is an important part of WCM sustainability efforts. Reducing the amount of trash sent to landfills can significantly reduce greenhouse gases and pollution.
At Weill Cornell Medicine, the Housekeeping team oversees the movement of our trash and recycling. Trash from the main campus is collected and consolidated in a compactor before being picked up by a hauler. WCM's hauler provides a single-stream recycling system. This means that all recycling streams are combined together. The separation into different waste streams (paper, plastic, metal, glass) happens later at a sorting facility. Only corrugated cardboard (such as thick delivery boxes) needs to be kept separate. However, keeping paper separated from plastic, glass, and metal helps preserve it and increase paper recycling quality. Therefore, the Office of Energy & Sustainability  encourages WCM students and staff to separate paper from the rest of their recycling when possible.
Buildings serviced by WCM's hauler (single-stream recycling):
| Main campus | Outside locations |
| --- | --- |
| 1300 York and Whitney Pavilion | 53 Beekman St |
| Belfer Research Building | 240 E 59th St |
| Weill Greenberg Center | 1163-67 York Ave |
| S and SI Buildings | 2315 Broadway |
| Olin Hall | 232 West 80th St |
| Lasdon House (Floors 2-5) | |
| Oxford Building | |
Trash and recycling from housing and some leased areas are collected from other haulers or by the Department of Sanitation. Usually, these areas must separate paper from the rest of the recycling, and the recycling streams are collected separately by the hauler.
Buildings with source-separated recycling include:
Lasdon House (Floors 6 and above) and other housing
Feil Research Building
77th St Housing Building
Center for Integrative Medicine
LA Building
MR Building
What happens to the waste?
Housekeeping collects the waste every evening (twice per day in 24/7 areas). For practicality, housekeepers use the same wheeled receptacle to collect both trash and recycling. The bags are then visually sorted into trash or recycling streams based on the content.
What can be recycled?
Rigid plastic (bottles, clean food containers, cups, utensils) – NO plastic bags or other types of soft plastics, squeeze tubes or pouches, Styrofoam
Paper and cardboard (paper sheets, envelopes, receipts, folders, newspapers, magazines, catalogs – NO hard cover books, waxed or soiled paper, soft paper
Beverage cartons
Glass bottles and jars – NO glasses or plates
Metal (cans, aluminum foil)
Mixed metal/plastic objects (chairs and furniture)
Note: all containers must be rinsed
What is considered a contaminant?
Paper towels
Soiled paper
Soiled food containers
Bottles or cups containing liquid
Surgical masks
Disposal gloves
Coffee cups
WCM Waste Streams
 (2022)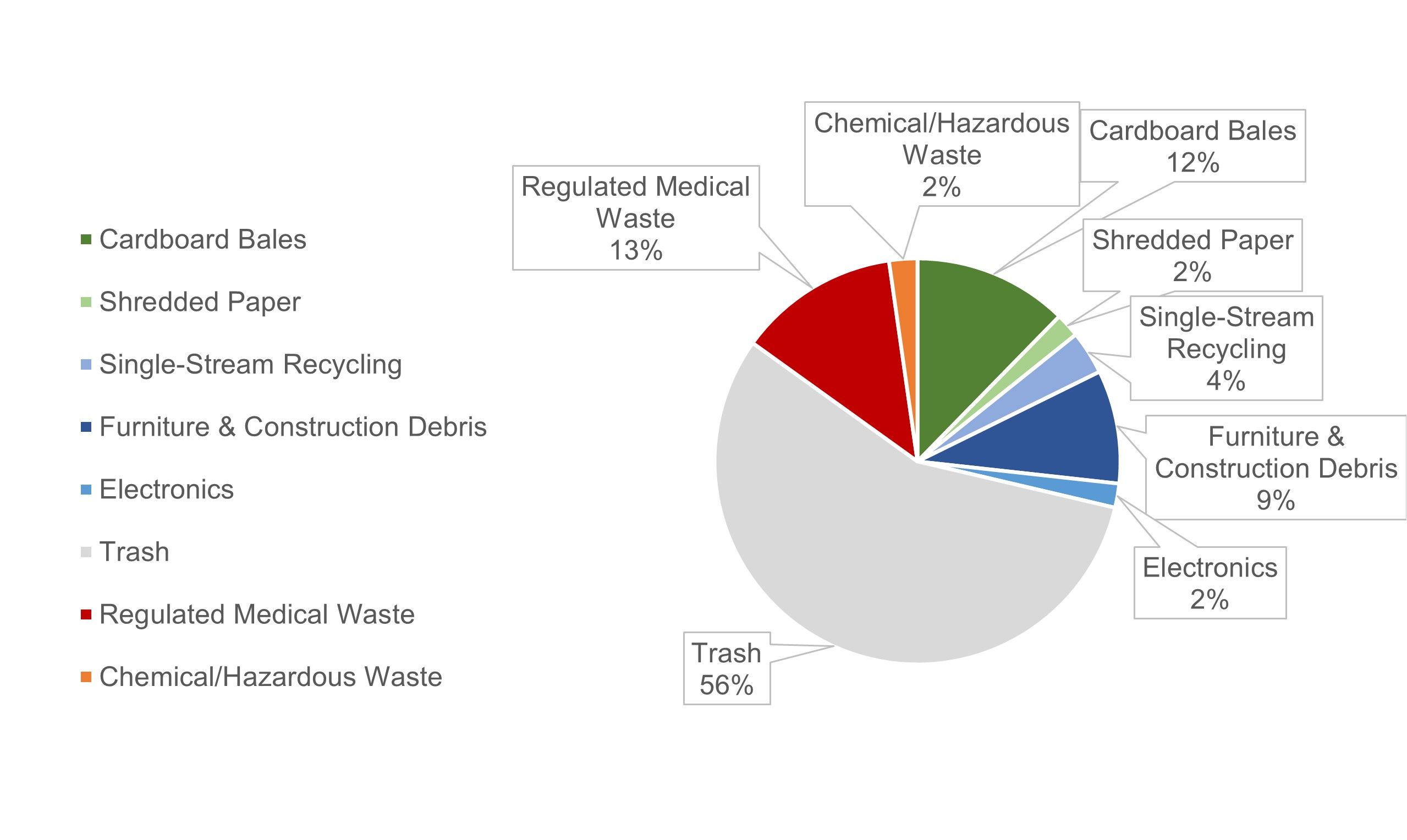 | Waste Type | Weight (ton/yr) | Vendor/Hauler | End of Life |
| --- | --- | --- | --- |
| Trash | 658.9 | Avid Waste, Action Carting | Landfill |
| Recycling | 40.6 | Avid Waste | Recycled |
| Cardboard | 144.3 | Avid Waste | Recycled |
| Confidential Documents/Shred Paper | 22.6 | USA Shred | Recycled |
| Bulk Waste | 105.9 | Avid Waste | Recycled (75%) |
| Regulated Medical Waste | 150.3 | Stericycle | Autoclave and Landfill |
| Hazardous Waste | 26.4 | Veolia | Incineration |
| Universal Waste | 2.1 | Veolia | Recycled |
| Electronic Waste | 22.5 | Dynamic | Resold or Recycled |
| | | | |
WCM Waste Streams Description
Trash
Once solid trash is picked up from our buildings, it is brought to waste transfer facilities by the haulers. From here, it's distributed to landfills, usually in Pennsylvania or Virginia.
Recycling
Paper: At a material recovery facility, paper is sorted and baled by grades, such as sorted office paper (SOP), mixed office paper (MOP), and old corrugated cardboard (OCC). These bales are shipped by rail, truck, and overseas container to fiber recycling plants. SOP is sent to mills in NY, NJ, and Canada, where it is made into hand towels and toilet tissue. MOP is sent to mills in Staten Island, NY, and Philadelphia, PA, where it is made into pizza boxes and other packaging items. Note: keeping paper separated from the rest of the recycling keeps the scrap material clean, whereas it could get contaminated if mixed with the rest of the recycling.
Plastic: Plastic is sorted by resin type (PET, HDPE, LDPE, etc.), baled, and shipped to several U.S. and Canadian mills. PET can be made into fleece sweatshirts. The most-often recycled plastic, HDPE #2, is recycled into plastic lumber, tables, benches, truck cargo liners, trash receptacles, stationery, and other durable plastic products.
Metal: Metal is sorted in open-top containers and taken to various scrap metal facilities for intermediary ferrous and non-ferrous sorting and processing before being sold to foundries for smelting. For example, aluminum cans are shredded or ground into small chips before being melted and cast into ingots, which are sent to manufacturing plants where they are used to manufacture end products such as cans, castings, and car bodies. 
Glass bottles: Glass bottles are sorted by color (e.g., clear, brown, and green) and sent to processing facilities where they are broken down into small pieces and separated from metals, labels, bits of plastic, metal rings, and caps. Glass is then blended with silica sand, soda ash, and limestone, and melted into molten glass.
Cardboard
Old, corrugated cardboard is sent to mills in India and Southeast Asia, where it is made into brown shipping boxes. Note: keeping it separated from the rest of the recycling keeps the scrap material clean, whereas it could get contaminated if mixed with the rest of the recycling.
Confidential Documents & Shredded Paper
Confidential documents, if not already shredded, are shredded on-site by our hauler USA Shred and then brought to a material recovery facility for recycling.
Bulk Waste
Note: Before disposal, oil and CFCs need to be reclaimed from refrigerators, freezers, A/C units, etc. 
Bulk waste is collected into dumpsters which are brought by the hauler to bulk and construction & demolition (C&D) debris recovery facilities. Wood and C&D debris is sorted, recovered, and turned into mulch, construction filler, and composite board and reused in the construction of crating, planking, and refurbishing pallets/skids.
Regulated Medical Waste
For more details regarding regulated medical waste, please visit the EHS site. Regulated medical waste is autoclaved before being dumped into a landfill.
Hazardous Waste (chemicals, chemotherapeutics, regulated substances, expired medications)
Hazardous waste is incinerated before reaching a landfill. Lendfills used for hazardous waste are specialized for this purpose and are not the same as landfills for standard waste.
Univeral Waste (batteries, mercury, lamps, waste oil)
The majority of universal waste can be recycled.
Electronics
WCM uses a third party vendor to reuse and recycle as much electronics as possible.
WCM Diversion Rate
In 2022, of the 1171.3 tons of waste generated 26.4%  was diverted from landfills. 
Please be mindful of the waste management hierarchy: